MP3 CAR RADIO MP91 DESIGN Model 2014
Car Radio USB+SD 64GB GIGA MP3 WMA without CD (deckless)
MP3 / SD / MMC / USB / ISO / COOL LIGHT BACK LCD DISPLAY + Remote Control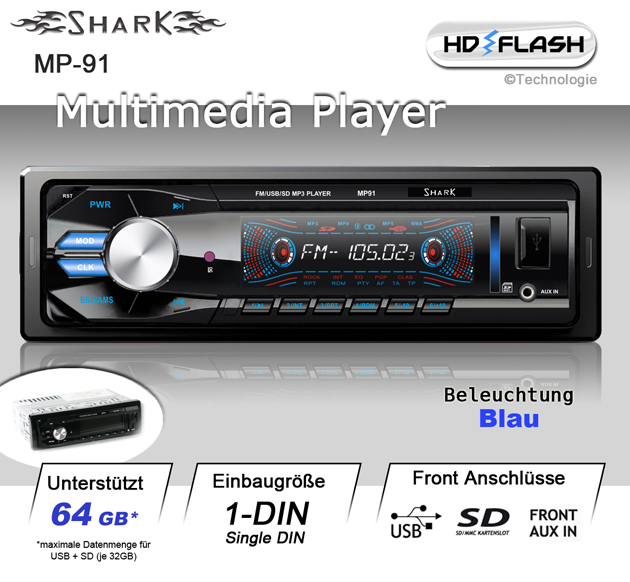 SHARK MP91:
USB & MP3-Car Radio without CD

No more CDs.
Your songs are simply played by SD/MMC or USB-Stick.
Are supported to 32-GB SD cards and USB Sticks - simply and without CD.
No scratched CDs, no reading problems and always the most popular songs and audio books...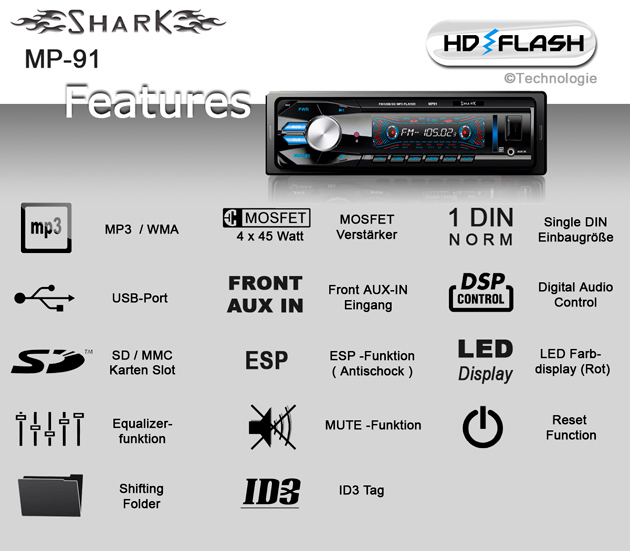 Equipment
ESP function (Electronic Shock Protection)
Plays MP3 of SD or USB-Stick
Supported USB-Sticks to 32-GB
Supported SD cards to 32-GB
Color LCD Dislay
Equalizer function: Rock, pop, classical period, jazz
output stage MOSFET with 4 x 45 watts
Shifting folders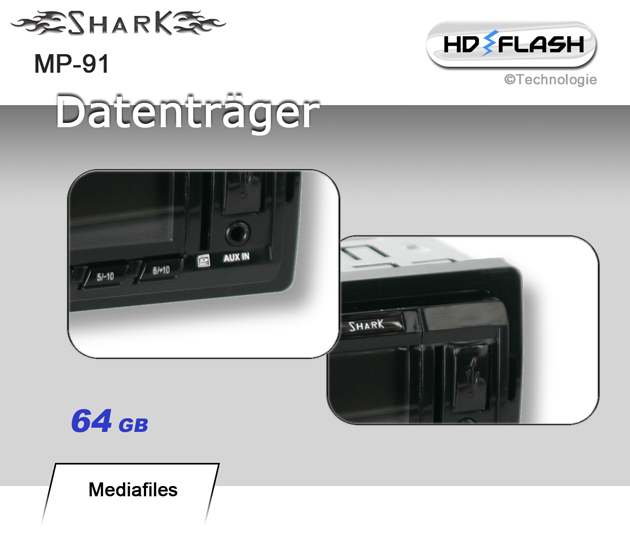 USB & SD Function
Play your songs and files directly from your USB stick or SD card.

USB
The comfortably USB connection is well accessibly in the front


SD/MMC
Also the SD / MMC slot is slightly accessible directly in the frontpanel




SHIFTING FOLDERS


Put on your songs on PC comfortably in different folders, for example sorted after interpret, music style, playlist or something else and navigate easily between these folders.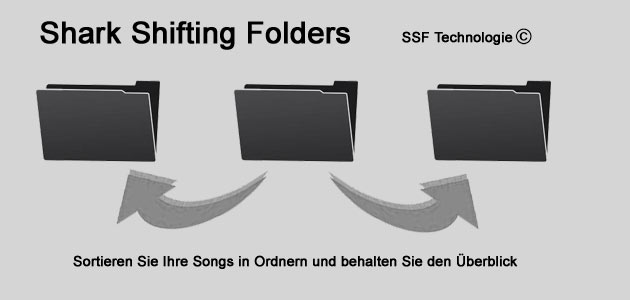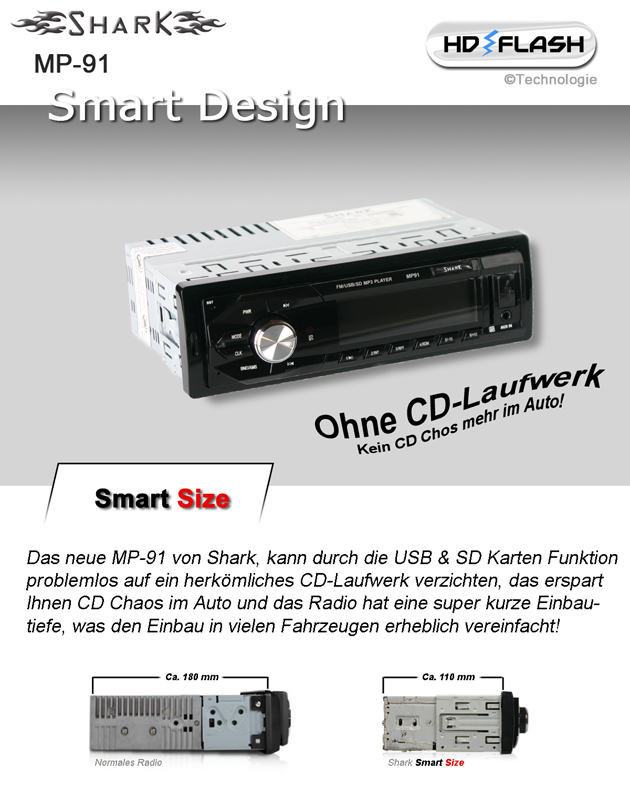 A clearly readable display provides for high ease of use.

Modern car radio with reliable technology.
About the rear Chinch of connections you can simply connect an additional output stage / amplifier.
Connections
ISO-connection
USB front connection
SD-Slot front
Aerial connection
Audioexit RCA (2x Chinch)

*Optional adaptor for front Aux-in cable possibly (optional accessories, available in approx. 4 weeks)

Car Radio IN-DASH RADIO RECEIVER
Support 64GB (32GBx2) memory card extention
Deckless
Stereo Elektronic Tuner
Elektronic Tuning
Power-Off with Auto-Speicher for Radio/SD/MMC/USB
EQ Effect: Flat/Jazz/Rock/POP/Class/LOUDNESS
Mosfet amplifier:180 WATT Leistung 4 Kanal
Soundeffects adjustable with DSP digital audio control
With ID3 Tag

With SD/MMC card Slot and USB port
Support playback format MP3
FM 87.50MHz~108.00MHZ (Europe)
LED Color Display with clock
Bass & Treble, L&R channel stabilizer
Remote control
Multi-function
Spannung 12V
ISO DIN Einbau
Fix front panel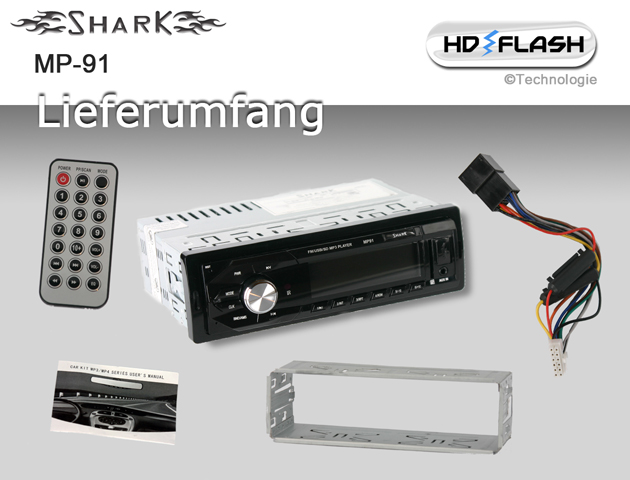 Lieferumfang:
Car Radio
ISO connection
Remote control
Installation frames
Instruction

Fehler und Irrtümer vorbehalten